Elevate Your Gaming Experience with the Secretlab Magnus Pro XL Metal Desk
When it comes to gaming setups, the right desk can make all the difference. Introducing the Secretlab Magnus Pro XL Metal Desk, a gaming desk that's poised to take your gaming experience to the next level. In this comprehensive review, we'll delve into the details of this remarkable piece of gaming furniture, showcasing its outstanding features, design, and performance, and why it might just be the perfect addition to your gaming rig.
Effortless Setup for Maximum Gaming Convenience
Setting up a gaming desk can often be a daunting task, especially when it's as robust as the Magnus Pro XL. However, Secretlab has gone above and beyond to ensure that assembly is as easy as it gets. Even with its substantial 150-pound build, the setup is a breeze, and you won't find yourself fumbling with numerous small parts or deciphering confusing instructions.
One notable aspect of the assembly process is the attention to detail in design. Each component fits perfectly, leaving no room for errors like accidentally installing a table leg the wrong way. While some larger desks might require a small team for assembly, the Magnus Pro XL can be easily handled by two people, making it a manageable task.
Sleek and Functional Design
At first glance, the Magnus Pro XL exhibits a sleek and minimalist appearance, with a matte black finish that exudes sophistication. Its design is deceptively simple, consisting of two legs and a spacious tabletop. However, beneath this minimalist exterior lies a plethora of thoughtful features that enhance your gaming setup.
One standout feature is the control panel discreetly integrated into the tabletop's lip. Unlike some desks where control panels can be obtrusive, the Magnus Pro XL's panel blends seamlessly, offering easy access while maintaining a clean look. It even incorporates anti-collision detection for added safety.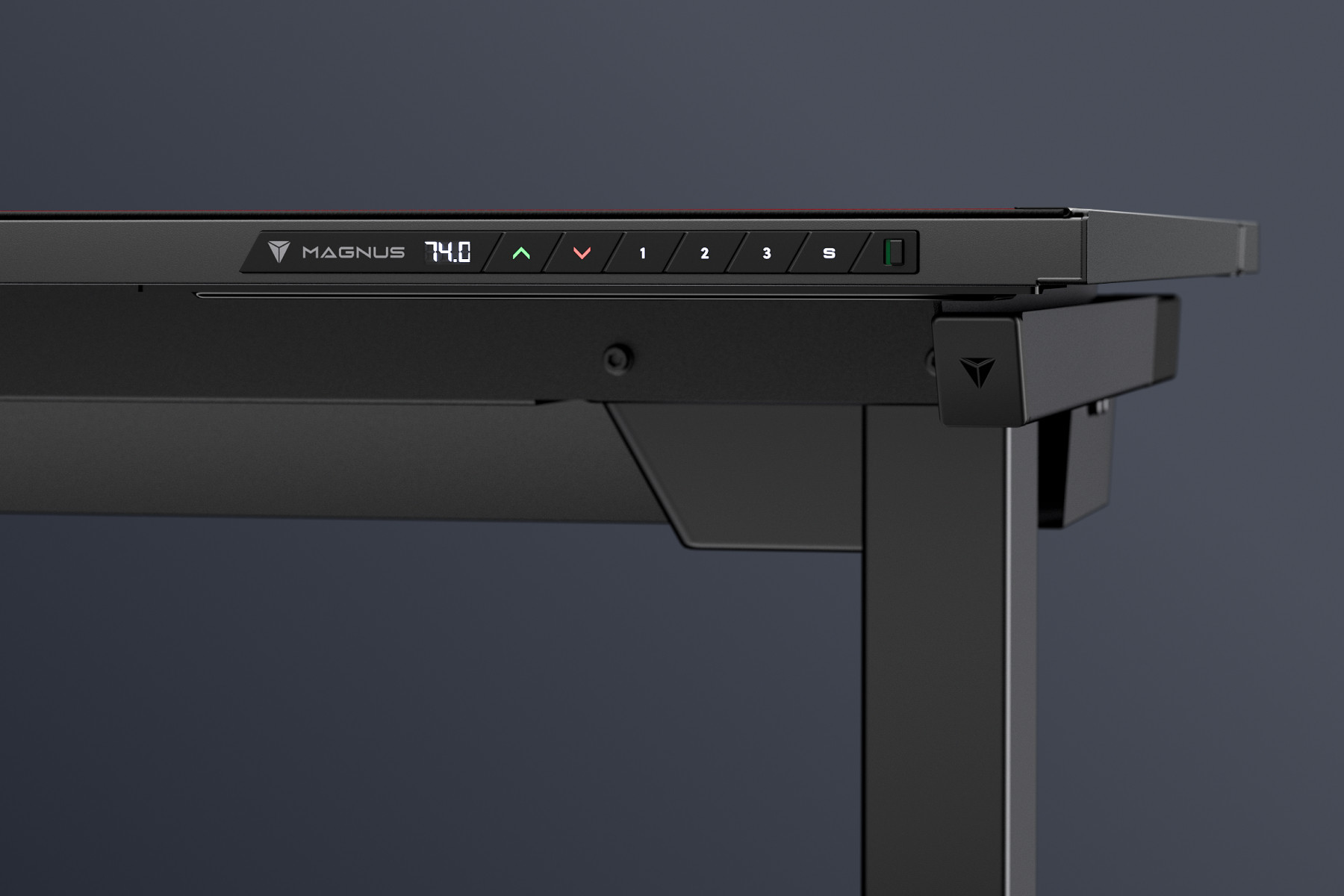 Exceptional Cable Management
Cable management is often an overlooked aspect of gaming setups, but Secretlab has taken it to a whole new level with the Magnus Pro XL. The desk includes a cable management tray that spans the entire length of the tabletop, allowing you to tuck away all your cables and power supplies neatly. The tray even features a hinged cover that makes it a breeze to place cables without the hassle of moving the desk.
What sets the Magnus Pro XL apart is its integrated power supply column. This innovative addition allows you to plug your various devices, including laptops, PCs, monitors, and peripherals, into a power strip that resides in the cable management tray. From there, it connects to one of the desk's legs, ensuring not only a tidy appearance but also providing extra protection. With multiple grounding points and a thermal circuit breaker, your gear remains safe and secure.
Seamless Height Adjustment for Comfortable Gaming
One of the standout features of the Magnus Pro XL is its height-adjustable functionality. The control panel, with its user-friendly interface, allows you to effortlessly adjust the desk's height to your preferred level. It responds to gentle touches, and you can even program three custom height presets for quick adjustments.
While the control panel and its LED display don't power down automatically, this minor inconvenience is overshadowed by the desk's overall performance. Considering its robust build, with a maximum load capacity of 260 pounds, the need for a second wall outlet to power the desk and its components is a small price to pay for the exceptional gaming experience it offers.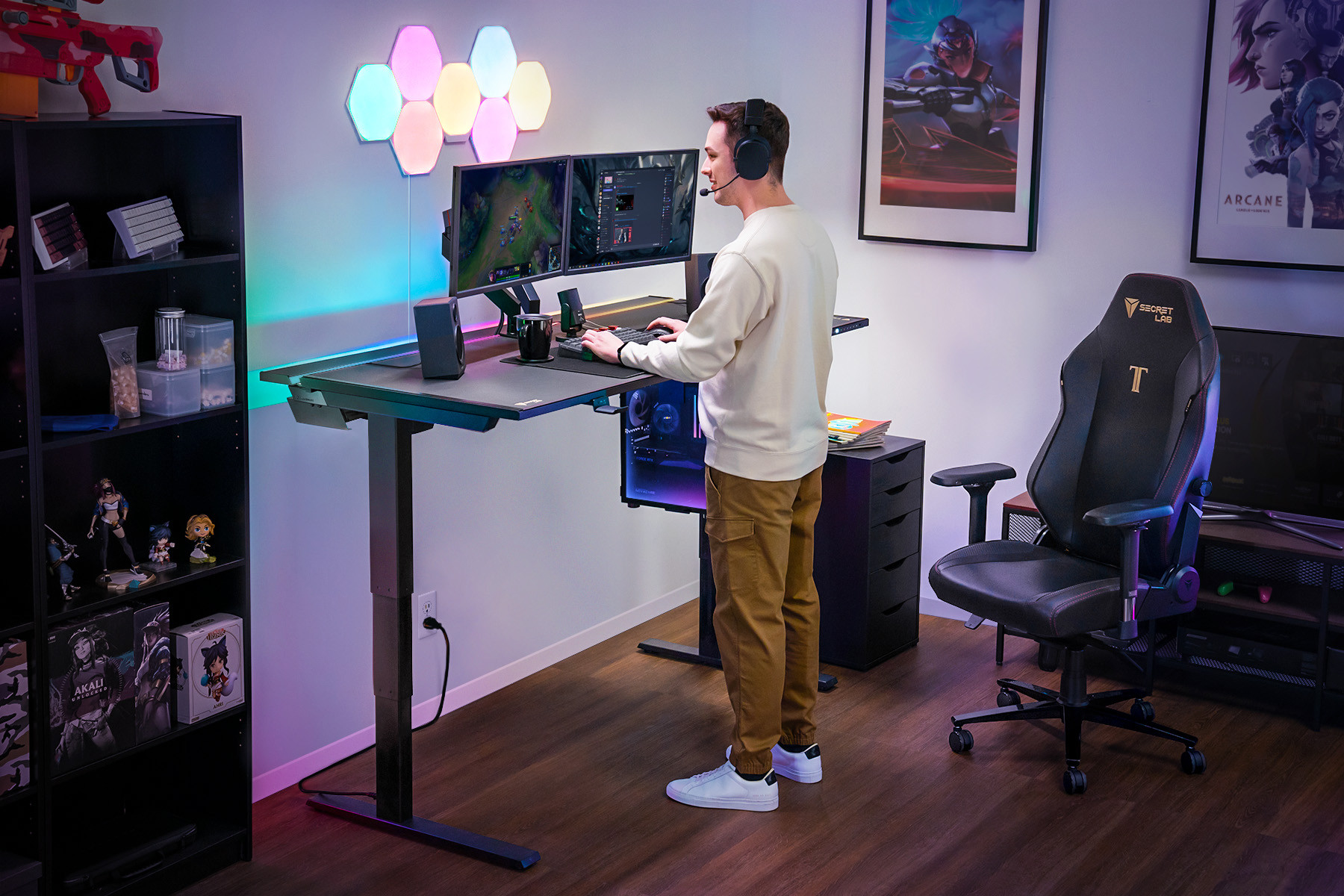 Modular Versatility for Personalized Gaming
Modularity is another area where the Magnus Pro XL truly shines. Secretlab offers an extensive range of add-ons that seamlessly integrate with the desk. These include monitor arms, PC mounts, desk mats, and even an RGB LED strip powered by Nanoleaf for a touch of gaming ambiance. Each add-on is designed with the same attention to detail and ease of installation as the desk itself.
For instance, the monitor arms are not only simple to set up but also fully articulating, allowing you to swivel your monitors into portrait mode, tilt them, and adjust their positioning with ease. Cable management is also integrated into the monitor arms, ensuring a clutter-free look.
Even the simplest accessories, like the headphone hanger, showcase Secretlab's dedication to user convenience. The magnetized hanger easily attaches to the desk's underside and stays securely in place, even when bumped.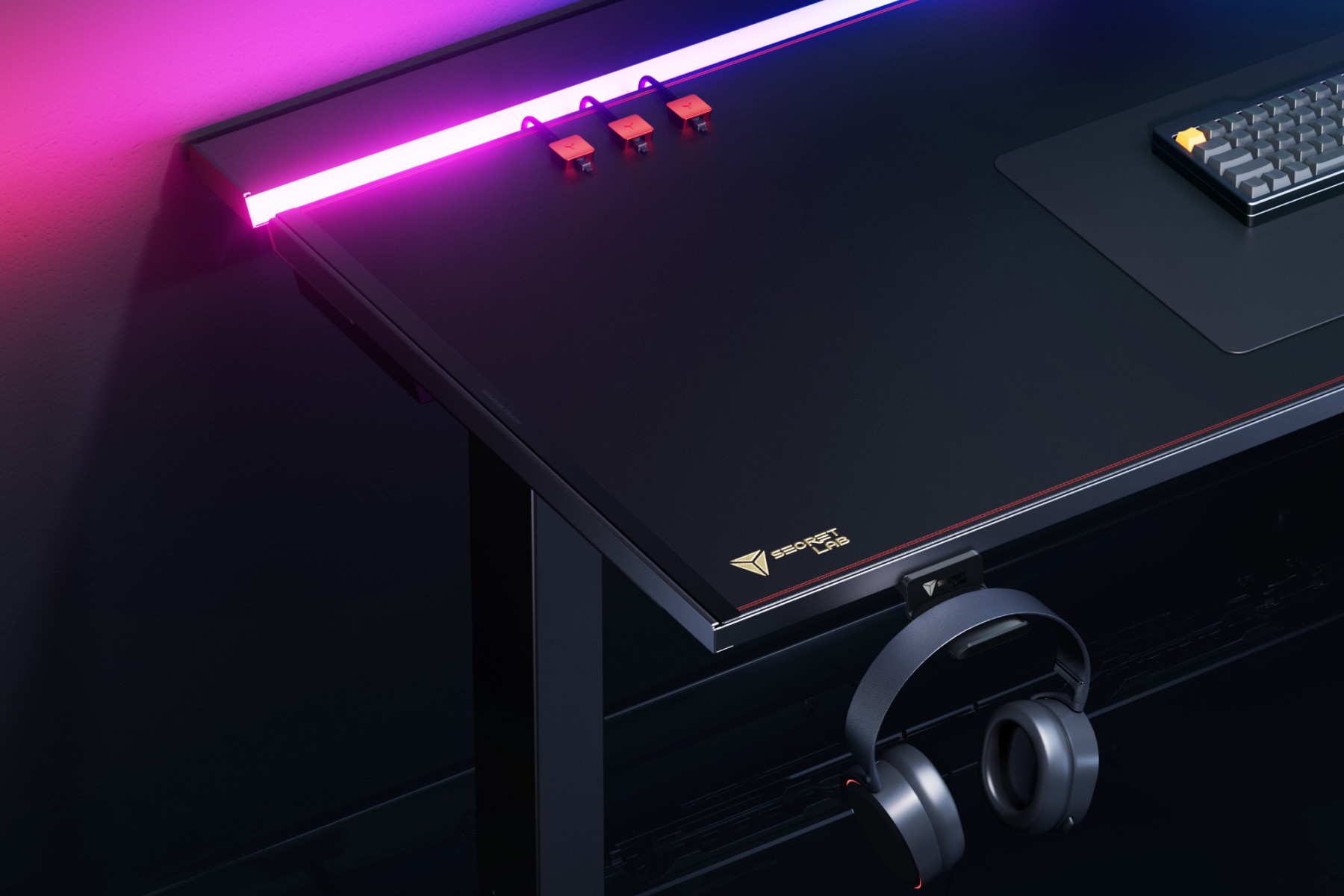 Is the Secretlab Magnus Pro XL Right for You?
Buy it if…
You're seeking the best gaming desk, regardless of price.
The Magnus Pro XL offers exceptional design and functionality, making it a top choice for avid gamers.
You want a modular, high-capacity desk.
With a wide range of add-ons available, this desk can adapt to your evolving gaming needs.
You need a brilliant cable management solution.
Say goodbye to cable clutter with the Magnus Pro XL's outstanding cable management features.
Don't buy it if…
You're looking for a budget-friendly option.
The Magnus Pro XL comes with a premium price tag, especially when considering add-ons.
You require a small and simple desk.
If you only need a basic setup for your laptop, this desk might be more than you need.
Secretlab Magnus Pro XL specs
| | |
| --- | --- |
| Desktop dimensions | 70″ x 31.5″ / 1770mm x 800mm |
| Desk top thickness | 0.8″ / 20mm |
| Desktop weight: | Desktop thickness |
| Maximum load capacity | 265lb / 120kg |
| Height range | 25.6 – 49.2″ / 650 – 1250mm |
| Motor speed | 30mm/s |
| Noise level | <50dB |
| Control panel | Capacitive touchscreen with 3 presets |
| Frame construction | Steel |
| Desktop construction | MDF with steel |
Consider Other Options
While the Magnus Pro XL is undoubtedly a standout gaming desk, it's important to explore other options that may better suit your specific needs:
Uplift V2 Standing Desk: For maximum customization, the Uplift V2 offers a wide range of color and frame options, as well as numerous accessories for personalization.
Friska Stockholm Standing Desk: A more budget-friendly standing desk option, the Friska Stockholm desk offers simplicity and configuration options.
Final Verdict
In conclusion, the Secretlab Magnus Pro XL Metal Desk is a true gem for gamers seeking the ultimate gaming setup. Its easy setup, exceptional cable management, seamless height adjustment, and modular versatility make it a top contender in the world of gaming desks. While it may come at a premium price, the investment is well worth it for those who prioritize quality and performance in their gaming experience.
Upgrade your gaming rig with the Secretlab Magnus Pro XL Metal Desk and elevate your gaming experience to new heights. With its exceptional design and functionality, it's more than just a desk – it's a gaming masterpiece.
Note: This review is based on the information available at the time of writing and is subject to change as new updates or versions may be released.