In the world of gaming, having the right gear can make all the difference between victory and defeat. Your gaming setup is your command center, and equipping it with the essentials can elevate your gaming experience to new heights. In this article, we'll explore ten gaming setup essentials that will help you level up your gaming prowess.
Table of Contents
1. Perfect desk for your gaming setup
Extensive gaming sessions can take a toll on your body, leading to discomfort and potential health issues. A sit-stand desk offers a solution by allowing you to easily switch between sitting and standing positions. This adjustability ensures that your gaming setup is ergonomic, reducing the risk of back pain, neck strain, and other posture-related problems.
Secretlab MAGNUS Pro:
Secretlab offers a great option with an innovative cable and power management system as well as solid build material that would stand the test of time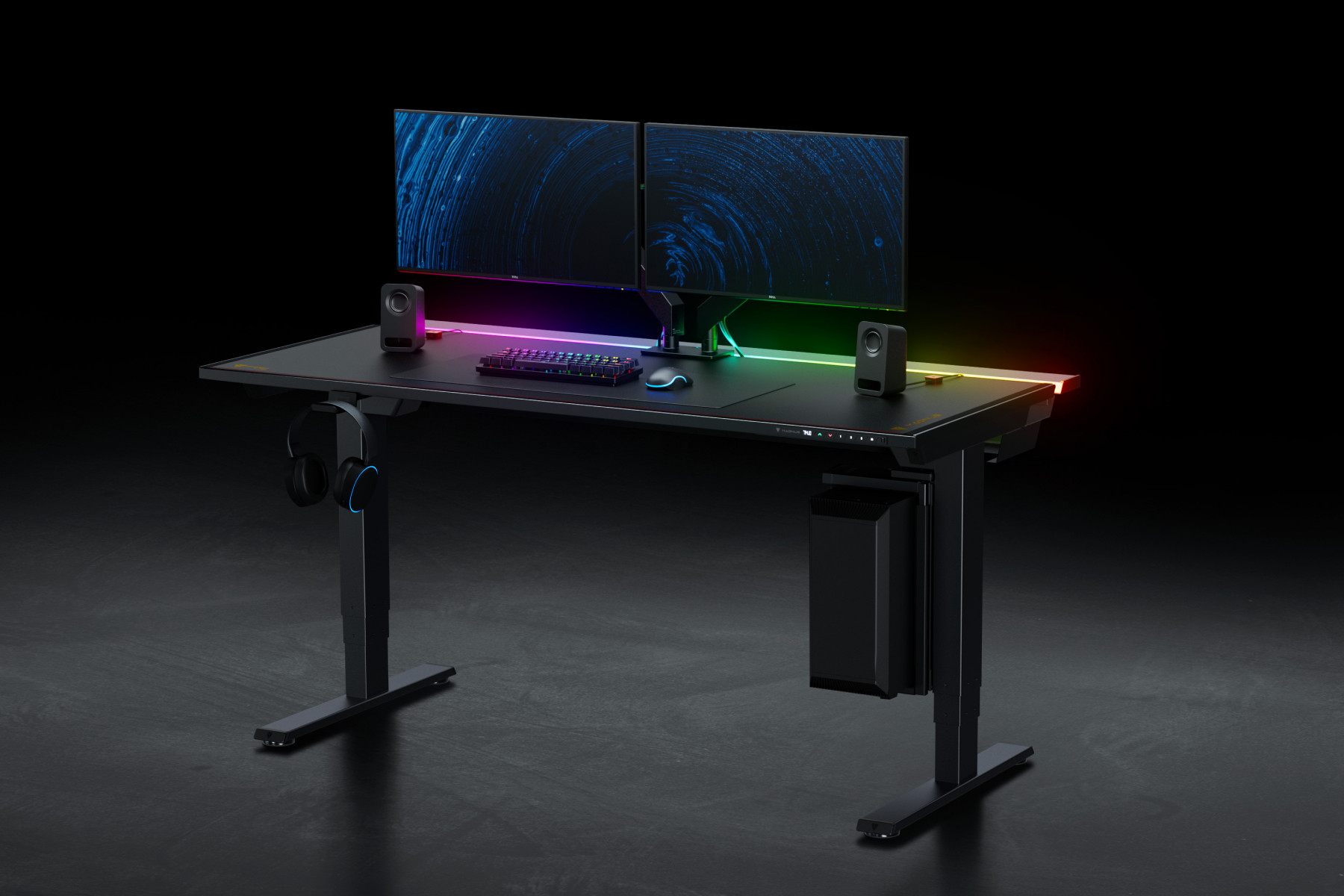 Azonanor Standing Desk:
Azonanor provides a minimalistic option with a classic wood top for your gaming setup, It's easy to assemble and a budget-friendly option.
2. A Comfortable Gaming Chair
Long gaming sessions demand a comfortable chair that supports your posture. An ergonomic gaming chair can prevent fatigue and discomfort, allowing you to stay in the game longer, and stay focused longer.
Secretlab Titan Evo:
The Secretlab TITAN Evo is the first gaming chair of its kind. Elevate your game with pro-grade ergonomics, deep personalization, and exceptional durability it's the choice of the world's best players and professionals worldwide.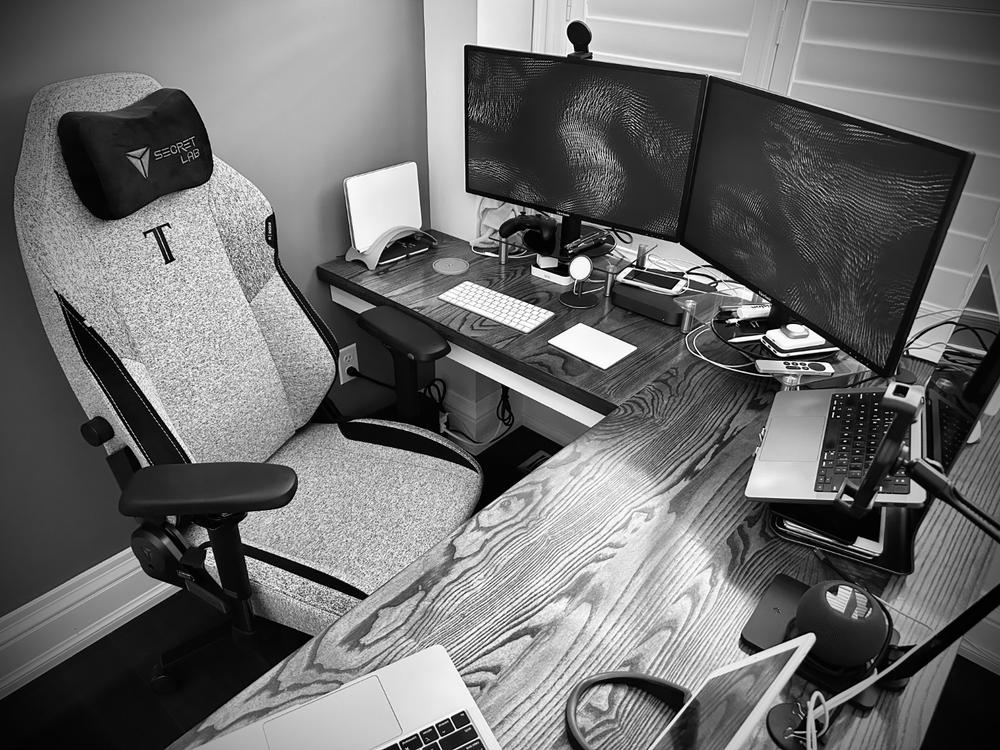 Primy Gaming Chair:
If you live in the hotter regions of the world Primy gaming chair is an alternative option that features all the essentials of an ergo gaming chair and as a bonus, its mesh design allows for better airflow and cooling.
3. Flexibility with monitor arm
A monitor arm is essential for a flexible gaming station. It allows you to adjust the monitor's height and angle for an ergonomic setup while maximizing your desk space. However, it's important to check the supported weight for each arm to match the weight of the monitor you are using
Ergotron LX premium monitor arm:
If budget is not a problem, you can opt for Ergotron LX, Though it's pricier, it is able to hold more weight making it a great future-proof option if you decide to swap to a beefier monitor in the future for your gaming setup.
HUANUO single monitor arm:
HUANUO is a great entry-level option for your gaming desk setup, it has everything you need in one package with a low budget that doesn't break the bank.
4. More than just a desk stand
While not the first thing that comes to mind, a desk riser is a great addition to your gaming setup, It functions as a monitor stand, a storage compartment, a place to hide your cables, and many other uses for you to explore.
HEXCAL studio desk stand:
HEXCAL studio takes the desk stand game to another level, providing innovative solutions for cable management and power delivery, It truly doesn't get better than this.
Class wood desk stand:
If you are going for a clean look the minimalistic desk riser would be the best fit for you, it has all the functionality that you could ever ask for.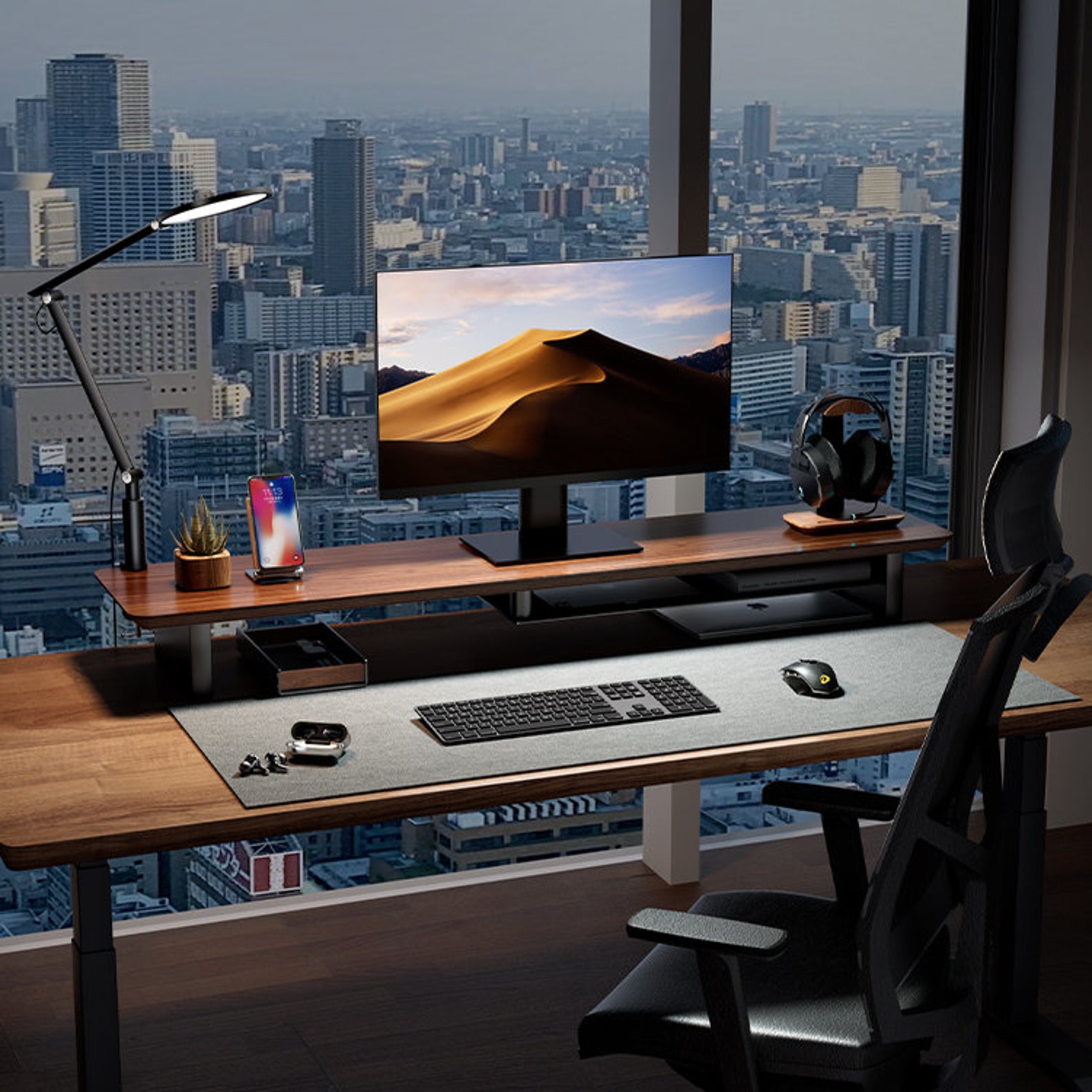 5. Elevate your sound
Immersive audio is often underestimated. Invest in a quality gaming sound system, allow crystal-clear sound to alert you to in-game dangers and enhance the overall gaming experience.
Razer Leviathan V2:
Razer being one of the leading brands in the gaming industry introduced many great products and the Leviathan V2 is definitely one to level your gaming immersion.
Creative pebble pro:
This is the more budget friendly option for your gaming set up, it bost a slick and minimalistic design and have minimal comprimise for its price
6. Maximum immersion just for you
If you live in a shared space, it's important to not be the guy that disturbs other's peace, A wireless headset/earbuds is a great way to avoid that while not sacrificing immersion.
Redmagic cyberbuds DAO TWS
This new release from RedMagic has revolutionized the earbuds space, with its cutting-edge technology and futuristic design, it would be a great addition to your gaming setup
HyperX Cloud II
One of the most highly rated headphones out on the market, its light weight ensures comfort even in the most long and intense gaming session, and being wireless means less clutter, a solid choice overall for your gaming desk setup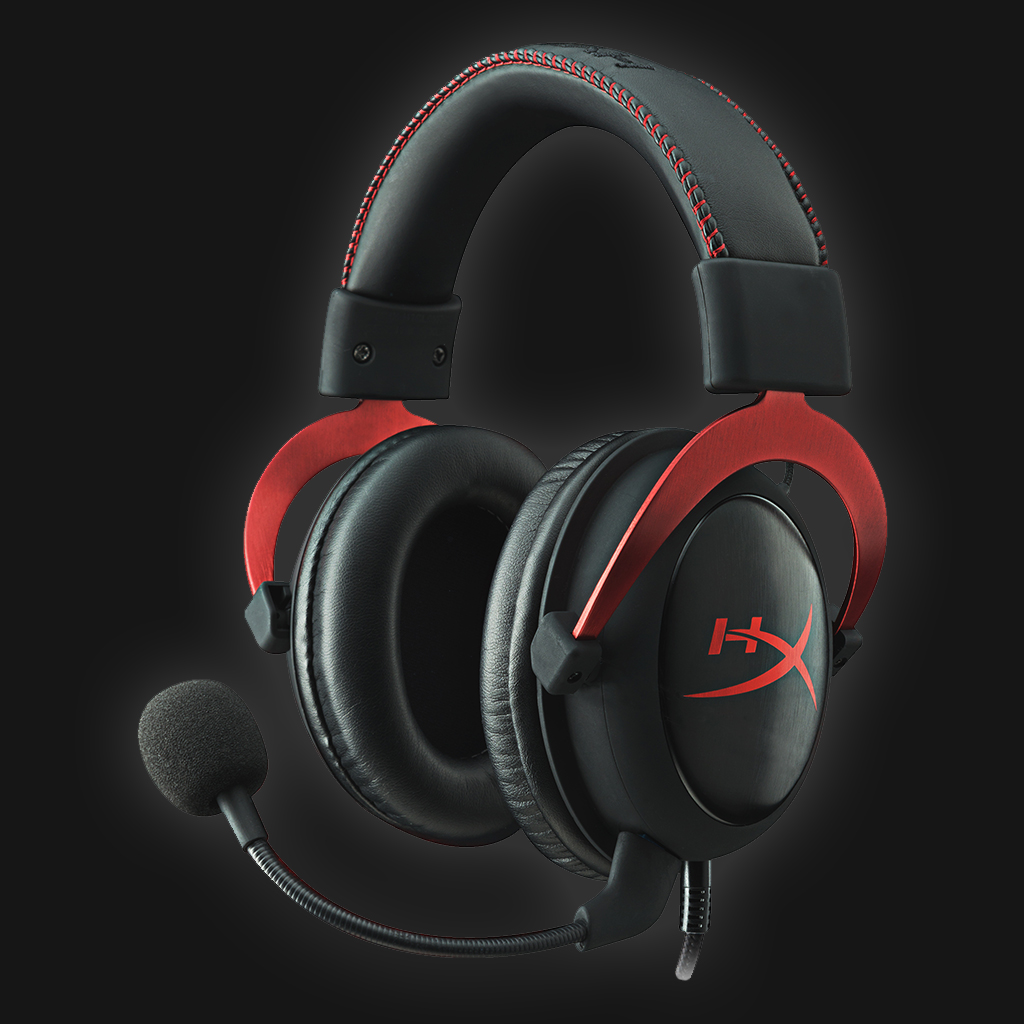 7. Microphone
In many games communication is the key to success, whether you are rushing the enemy base or taking down an epic boss with your friends. a good microphone is your direct line of communication, It allows you to relay crucial information, call for backup, or just chat and have fun with friends.
HyperX ProCast:
The HyperX ProCast provides professional-grade features like excellent noise cancellation, Anti-Vibration Shock Mount, and many more features for your gaming needs.
NZXT Capsule Mini
NZXT's Capsule mini is a budget-friendly option that despite being small and cheaper in price, has almost no compromise compared to other products.
8. Mouse and Keyboard
Gaming-specific keyboards and mice offer advantages like customizable keys and precision tracking. Find a comfortable combo that suits your playstyle for improved gaming performance. Do take note that depending on the type of game you play choosing the type of mouse is important.
Logitech G Pro Wireless (FPS games):
Logitech's mouse has been recognized around the world even being used in E-sports, especially the G pro wireless, allowing you to play like a Pro.
Razer Naga V2 (MMORPG games):
When playing an MMORPG it's important to stay focused on the fight and casting skills a the right time for tons of damage, Razer Naga's additional side buttons ensure that every skill is at your finger's reach.
9. Lighting
The right lighting can create an immersive gaming atmosphere. RGB lighting not only adds flair but also helps set the mood. Sync your lighting with in-game events for an even more engaging experience.
Nanoleaf:
The unique design allows the user to personalize the design to their liking and adds an additional layer of flair and immersion to their gaming setup.
Philips Hue Play:
Being a smart light it has the ability to activate on voice command making your gaming setup more futuristic and with its expandability with other Philips products the customization is limitless.
10. Sound damping foam
While we've established the importance of high-quality gaming headphones for sound systems. another element to consider when it comes to acoustics is a sound damping foam, Its ability to reduce echoes and ambient noise makes it a great addition in enhancing gaming audio quality, more over if you are a late-night gamer, it ensures that your intense gaming session won't disturb others in your household.
HEMRLY acoustic panels:
If you ever watch streams or YouTube videos, you probably have seen these in the background, that goes without saying how much content creators and other gamers love this product.
Tutmyrea triangular acoustic panel
If the plain black square is not your style, this would be the option for your ideal gaming setup.
Conclusion
A well-equipped gaming setup is the key to unlocking your full gaming potential. Whether you're a casual player or an aspiring pro, investing in these essentials will undoubtedly level up your gaming experience. From the monitor you choose to the chair you sit in, every component plays a vital role in creating an immersive and enjoyable gaming environment.
Now, go ahead and fine-tune your gaming setup, and let the gaming adventures begin!